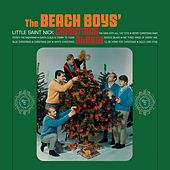 The Beach Boys – I'll Be Home For Christmas
Audio clip: Adobe Flash Player (version 9 or above) is required to play this audio clip. Download the latest version here. You also need to have JavaScript enabled in your browser.
Dear Santa: I apologize in advance for the wonkiness of the following item on my 2011 Christmas list.
So I've ranted plenty on this blog about the travesty that has been the manner in which education management organizations have analyzed data in recent years.
The good news is that at least our district is starting to take data a bit more seriously now. For example, up until last April, the only way to gauge a school's performance was the results of the California Standardized Test results, which as everyone realized, but no one admitted, was largely a function of the incoming performance of the students at the schools.
In a vast, but far from perfect, improvement of data systems, LAUSD has begun having the value-added (LAUSD calls this Academic Growth Over Time, or AGT) conversation, which, despite its potential shortcomings, actually is the right conversation to be having. In a revolutionary affirming that there are non-school factors that influence student outcomes, the value-added conversation attempts to isolate school factors by controlling for these non-school factors (see below).
However, a more detailed reading of the LAUSD FAQ sheet reveals its own internal shortcomings, particularly in the way it fails to differentiate in the continuum of socio-economic status, and rather relies on the arbitrarily defined and broadly categorized partition of "Free or reduced lunch status", as well as the potentially ignored data on peer-effects. The district does admit that more precise measures aren't included because data for it cannot be gathered.
So if this is the status of things, then what better data could I possibly wish for?
Well Santa, if you're listening, I'd like some fresh ideas on how to include better data in these measures, which might include new and innovative ways of measuring them. Unfortunately, the rhetoric of the district implies that these data metrics are not only solid, but are as good as we'll ever get. This has resulted in posturing that wants to place an arbitrarily high weight on this portion of an individual teacher's evaluation. My issue with allowing the AGT to initially have a 30% weight is that it assumes that this metric has no room for improvement. I highly doubt this. We are in right at the start of this discussion, and with time, the data metrics will be better, the applications will be more appropriate, and as a result, better data will be had. Until that day, however, the usage of AGT should start small, and then, with improvement, be given a greater weight.
So Santa, with this rant, I'm hoping for a bit of modesty among ed-policymakers. Please give them a bit of humility as they apply data metrics to our schools and our teachers, realizing that current data, while a good start, may be far from perfect. Santa, help them to make policy decisions that actually allow room for the improvement of the data metric.
So Santa, for Christmas this year, I'd like better data!
By